stagecoach crossing at arrowhead ranch
Over 2,046 deeded acres – up to 2,507 acres available with State Land Lease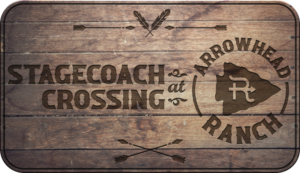 Stagecoach Crossing Ranch ("SCR") is an iconic, fully equipped working livestock ranch with exceptional year-round paved state highway frontage and many on-site recreational opportunities, including over five miles of live water. Stagecoach Crossing, located at the intersection of Colorado Highway 9 and U.S. Route 24, renown within Colorado's beautiful South Park basin grassland, is circled by a ring of awe-inspiring vistas of snowcapped mountains. This geographic area has remarkable recreational opportunities within easy-driving proximity, which include legendary skiing resorts and slopes, world-class fly fishing, coveted hunt units, boating, hiking, and recreational vehicle riding.
SCR headquarters has noteworthy buildings for the care and maintenance of livestock and other ranching operations, plus outstanding accommodations for owners, workers, and guests. Historically, Arrowhead Ranch has run about 200 head of buffaloes. Presently, about 17 buffalo and 200 head of cattle graze the ranch land. There is the capacity for additional livestock at Stagecoach Crossing.
The largest property in the Arrowhead Ranch portfolio, Stagecoach Crossing Ranch, totals 2,046.97 deeded acres and 460.34 State Leased Land, for a total of 2,507.31 acres. Additional adjoining ranches within Arrowhead Ranch may be acquired to enlarge and enhance Stagecoach Crossing Ranch.
The ranch has substantial perimeter fencing conducive for buffaloes. If purchased separately, Stagecoach Crossing Ranch's southern boundary line has fencing along the South Fork of the South Platte River with specific watering openings. It will require additional fencing along a portion of the eastern section of its southern boundary. All perimeter fencing is in place if purchased with the adjoining ranches available at Arrowhead Ranch. As identified on the Survey (see below), a relatively narrow public fishing easement parallels the live waterway and one public access point and parking area.
This ranch has remarkable characteristics — rarely bundled in large acreage ranch land properties. Stagecoach Crossing is value packaged for immediate sale.
SITE ACREAGE

2,046.97 deeded acres
Optional 460.34 acres of State Land Leased, for a total of 2,507.31 acresavailable for ranching and recreational purposes

FRONTAGE ACCESS

2.44 Miles of frontage on Colorado State Highway 9

LIVE WATER

Live water access includes: 2.09 Miles frontage on the South Fork of the South Platte River

3.01 Miles frontage on Fourmile Creek

BUILDINGS & FACILITIES

Main Owner's Two-Story Residence

~2,064 Sq Ft
Completely Remodeled
3 Bedrooms, including a Master's Suite with a sitting area and theater seating
3 Full Bathrooms plus 1 Half Bath; all with granite countertops
Full gourmet Kitchen with granite countertops and stainless-steel appliances
Living Room with Gas Fireplace
Sitting Room with Gas Fireplace
Family Room with Gas Fireplace
Laundry and additional appliances storage room with separate entrance and full bathroom
Security System and CCTV Cameras with remote access
Smart Thermostats
Covered Portico and porch at main entrance
Entertaining Deck with gas grill and all-weather hot tub

Stagecoach Ranch House

~540 Sq Ft
Remodeled 1 Bedroom 1 Bath House
Full Kitchen
Enclosed all-weather Sitting Porch
Outdoor Deck

Log Cabin

~620 Sq Ft
1 Bedroom 1 Bath
Kitchen
Outdoor Sitting Deck

Bunkhouse

~432 Sq Ft
Electric, but no water or sewer
Sleeping and recreational area

Owner's Garage

Generous ~2,250 Sq Ft, heated garage
Work benches, storage, work areas, vehicle storage

Equipment Garage

~1,600 Sq Ft
Equipment & vehicle storage
Tool & Recreation Vehicle storage area

Log Barn

~740 Sq Ft
Livestock and equipment areas

Loafing Sheds

~3,340 Sq Ft
Area is connected to large corral area

Two-Story "James" Barn

~4,000 Sq Ft
State-of-the Art Seed Growing Climate Controlled Production Center
Tach Room and Storage Rooms/Areas for tools and equipment
Second Floor Hay Loft with hay/grain chutes
Second Floor could be wedding venue or gathering area

Long Barn

~6,050 Sq Ft
Livestock, Equipment and Storage Areas
Adjacent to corral and pasture area

Livestock Weigh Building

~432 Sq Ft
Complete with livestock scale
Adjoins multiple livestock pens

Livestock Inventory and Tagging Building

~240 Sq Ft
Holding Pen for identification and tagging purposes
Adjoins multiple livestock pens

Owners Log Shed

~88 Sq Ft
Located adjacent to Owner's Main House

Grain Hopper

Loading Chute

Located adjacent to Inspection and Weigh Buildings and multiple pens

Elevated Fuel Tanks

Two tanks: one for Gasoline; one Diesel Fuel

Miscellaneous Amenities

Two Corral Areas
Multiple Pastures
Root Cellar
Chicken Coop
Massive Log Entry Arch
Two Wells
Two Septic Systems
explore the amenities of each ranch property: